Sensory-friendly and Adaptive Halloween Costume Ideas 
Halloween is coming up, and finding the perfect costume can be tricky. It can be especially challenging to find a costume that is adaptive or sensory-friendly. A lot of Halloween costumes can be uncomfortable, itchy, or difficult to get on and off. Luckily there are some great costume options out there that will help include everyone in the Halloween fun. Below are some amazing adaptive and sensory-friendly costume ideas. 
Target Adaptive Halloween Costumes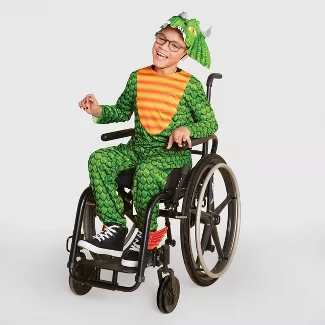 Target has an amazing line of adaptive Halloween costumes with a large variety for all ages and needs. Target's adaptive costumes feature accessible zippers and velcro's to make them easier to get on and off. They also feature flexible and comfortable fabric to help those with sensory challenges. Along with great costumes, Target also has fun and festive wheelchair covers! 
Character Hoodie/ Shirt 
A great option for someone who may have sensory challenges is to wear a character hoodie or t-shirt. This allows comfort while also being able to dress up for Halloween. An added bonus is that a hoodie is warm for trick or treating, and it can be worn after Halloween! 
Onesie or Comfortable Pajamas  
Using a onesie or pajamas as a Halloween costume is another great sensory friendly option. There are some great onesies that you can get at places like Walmart, Amazon, and Target. Wearing a onesie can allow anyone to dress up as their favorite character or animal while still wearing something that is comfortable. Pajamas are also a good option for a comfortable halloween costume. Kickeepants is a great company that specifically sells soft and comfortable clothes, and they have fun Halloween themed pajamas that will help anyone stay comfortable while trick or treating.  
Everyday Clothes  
Another option is to DIY a costume out of everyday clothes that you may already have. This can be done by wearing clothes that are already comfortable and adding a fun accessory like a cape or animal ears. Creating a costume out of everyday clothes allows for creativity, while also providing a great sensory-friendly costume! 
Fun and Function Sensory Costumes 
Fun and Function is a great company that specializes in sensory solutions. If your child needs extra support, Fun and Function has costume accessories that are weighted or add extra compression. They also have compression clothing that can be worn underneath a costume in order to help calm.  
Links to websites mentioned: 
https://www.target.com/c/adaptive-halloween-costumes/-/N-66yhm?Nao=0 
https://www.kickeepants.com/shop/pc/viewCategories.asp?idCategory=1730 
https://funandfunction.com/product-type/clothing/costumes.html